<![endif]-->

READ THIS IMPORTANT INFORMATION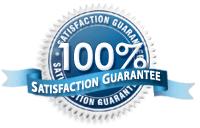 eBOOK TROUBLESHOOTING

If you have overlapping text and images, make sure you set your monitor to
1024 x 768 resolution. Go to: control panel, display, settings and change accordingly.

Make sure to copy and paste your computer ID and password. Do not type by hand. Check remember password. Write you password down in a safe place.
If you have any problem with ordering, downloads or password, email: support@apricotforesthall.com
You can download the eBook now and your password will arrive to you as soon as we receive payment!

1. Click here to download: http://www.apricotforesthall.com/kulo_050508.exe


2. SAVE the file to your hard drive.


3. Open the file. It will ask you for a password.


4. Copy and paste into an email your COMPUTER ID (the top long string of numbers).


5. Email your Computer ID to: password@apricotforesthall.com

We will within 24 hours send you your password. Usually sooner.


6. Copy and paste your password into the eBook dialog box and open the eBook. Happy Reading!

*Payment must be verified before password is sent.


Its that simple. Just 4 easy steps! Couldn't be simpler!
And all safely secured by PAYPAL reliability and security!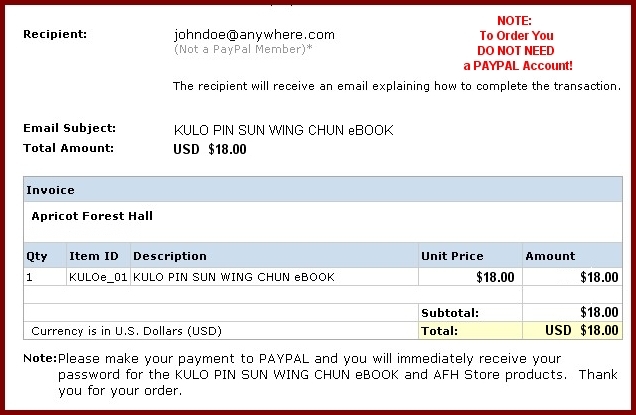 1. Simply email us with what you wish to order (description) and the quantity
to this address: orders@apricotforesthall.com No other info needed.
2. We will send you a PAYPAL EMAIL INVOICE with your order details.

3. You receive and review the email invoice.
4. Click on the PAYPAL email link and pay by credit card, bank, or PAYPAL.
You don't even need a PAYPAL account! Just an email address & order!
Welcome to the
Apricot Forest Hall Store
Traditional Wing Chun Merchandise - Direct From China!
ORDERING AND DOWNLOAD INSTRUCTIONS





DOWNLOAD AND PASSWORD INSTRUCTIONS -
KULO PIN SUN WING CHUN eBOOK
Below is what we send to PAYPAL and then PAYPAL will send you an email invoice! You simply click and pay! Quick, Convenient and Easy! ORDER NOW!
ORDER THE eBOOKS AND ALL AFH STORE PRODUCTS - 4 EASY STEPS
eBOOK SYSTEM REQUIREMENTS
Pentium Processor or Better
Internet Explorer 4 or Better,
1024 x 768 Screen Resolution
to change screen resolution
go to control panel, display, settings

.EXE download file -
Self Extracting - Click & Open
File Size: 15 MB Approx.
Like Most eBooks -
Our eBook WILL LOCK to Your ONE PC Only
the eBOOK CANNOT BE
Shared, Copied or Printed